Women in Poultry: Dr. Doris Mueller-Doblies
Learn more about Doris Mueller-Doblies, Global Food Safety Consultant with Elanco based in Austria
Doris Mueller-Doblies, Global Food Safety Consultant with Elanco, is responsible for supporting affiliates worldwide on Salmonella-related issues, including vaccination, biosecurity. This includes providing global technical support and training for the Elanco team as well as supporting R&D研究相关 Salmonella. Prior to Joining Elanco in 2018, she worked as head of the Salmonella serotyping laboratory at the National Reference Laboratory for Salmonella for Great Britain and OIE Reference Laboratory, APHA in Weybridge, UK.
Describe a typical day in your current role?
One of the most exciting features of my role is that there is no typical day; every day is different. Before the Covid pandemic, I spent around 30% to 40% of my time travelling, visiting colleagues and customers in different parts of the world and supporting them in their effort to produce safe food – safe poultry meat and safe eggs. Since the pandemic, I have been working from my home office, so we had to find new ways of reaching out to our customers. I now spend a lot of time in virtual meetings, talking to customers, giving seminars and online lectures and trying to provide as much remote support as possible. I am also involved in interactions with policy makers and with the research and development teams within our company, so it is a good mix of practical solution-oriented work, science and policy. But I can't wait to go out again and visit farms and spend time with our customers. The face-to-face contact is something I have been missing a lot over the past two years.
What's unique about your role?
I think that my background is somehow unique, as I spent several years in academia to start with, followed by 12 years in a government OIE Reference Laboratory before I joined Elanco. This means I have seen the different sides and viewpoints of disease control and prevention, providing me with the background knowledge and insights which I can now use to support my colleagues in the affiliates and our customers. My role at Elanco is unique as it gives me the opportunity to use this experience on a daily basis to connect with people all over the world and across all production sectors, and for that I am very grateful. Although the common topic is, in most cases, Salmonella control and Salmonella prevention, every situation and every project are different and require tailored solutions.
What are the main challenges that you face in your role?
The biggest challenge, but also the greatest opportunity, is the breadth of my role – the fact that I am involved in different projects across the globe. Although there are problem sets which are commonly seen, the poultry industry does face different challenges depending on geography, climatic conditions, established husbandry practices and structural settings. I realize that differences in behavior and communication as well as cultural differences can sometimes be challenging, and it takes time to learn how to read between the lines and how to interpret certain behaviors. Listening to our customers and taking into account their individual circumstances is pivotal to be able to respond to their needs.
What does the future of poultry health look like in terms of preventing and treating disease?
For me, poultry health and the health of the consumer are closely interlinked. As a company, we need to make sure we provide the poultry industry with solutions to raise healthy, well-managed flocks if we want to produce healthy, safe food. The infection of a flock with a zoonotic Salmonella serovar for example rarely results in disease and rarely has a negative impact on production parameters, yet the impact on human health can be significant. That's why I think we need to include the zoonotic pathogens, such as Salmonella or Campylobacter, more in the general discussion when we talk about poultry health. At Elanco, we take pride in putting a lot of emphasis on food safety, and we support our customers on that journey through tailored consultancy work, the development and implementation of improvement plans and the long-term monitoring of progress. Helping producers identify risk factors and work out solutions on how to mitigate these risks is something we are passionate about, and quite often, it just needs an extra pair of eyes to identify risk factors in the areas of hygiene, pest control or biosecurity. However, it important to give the customer the long-term perspective that we are with them all the way and our goal is to help them achieve long-term improvement.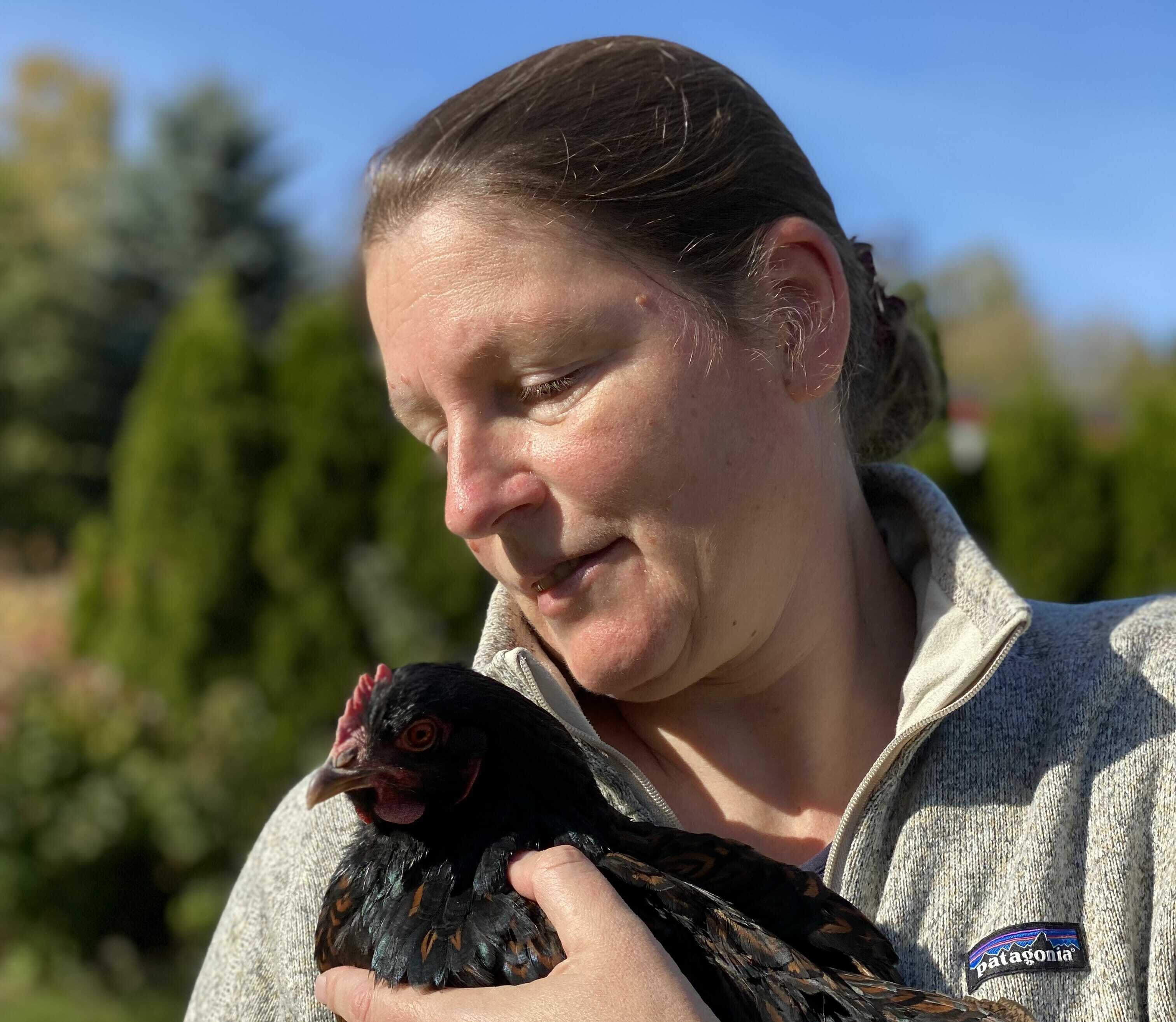 Are there individuals or organizations in poultry who you've found particularly inspirational?
The time I spent at the National Reference Laboratory for salmonellosis in Weybridge in the UK has definitely shaped me and has stimulated my interest in poultry, as I didn't really have any poultry experience before I joined that team. But generally, I would say everybody in the industry, who does their job with passion and thrives to become better and improve every day, should be an inspiration. I was often moved by the passion of small family-owned farms, who produce under difficult conditions and with little revenue, but who show so much love for what they do. That can be quite humbling.
Have you encountered any challenges as a woman in your field? If yes, how have you overcome them?
Sometimes, I realize that I am the only woman among an audience of male colleagues, but I have never seen this as a problem. Across all geographies and cultural differences, I have always been treated with respect, because at the end of the day, my mission is to help the people I am working with, and I think most people realize quite quickly that I am passionate about what I do. I will always go the extra mile to provide the best possible support, no matter how big or small the project is, and I believe this is how I gain the trust of the people I interact with. While my children were younger, managing work, business trips and childcare was not always easy, but that's a challenge most women face to some extent.
What outstanding challenge facing the poultry industry would you most like to solve?
It makes me sad to see that we, as consumers, are willing to spend lots of money on all sorts of things, but when it comes to food of animal origin, we want to buy the cheapest possible product. That's not right, and in particular in the developed countries, we need to get back to the point where we are prepared to spend a larger proportion of our income on food to ensure our farmers can afford high welfare standards and can make a decent living without relying on subsidies. When I see supermarkets engaging in competition on prices for meat, I sometimes wonder if the consumers understand how much it costs to raise and feed a chicken, how little profit there is for the producer and that paying a few cents more for a chicken could make a big difference for the producer. Consumers usually have no idea about rising feed costs or rising energy costs to name a few, but for the farmers, this is a question of surviving as a business or not. I think we need to focus on creating the awareness that if we want livestock to be raised according to high welfare standards and the resulting food to be healthy and safe, we have to accept that high quality comes at a certain price.
What's the most exciting innovation that you see on the horizon for the poultry industry?
I am excited about the increasing options to determine the sex of laying birds in-ovo, although I have to admit that I don't have enough technical knowledge about the details of the different methods, implicated costs, financial viability etc. Keeping laying birds in production longer due to improved genetics is also an important step to reduce the overall number of hens needed. And further reduction of the use of antibiotics is an important step which many countries still need to make. Personally, animal welfare is something I am passionate about. Therefore, new husbandry practices and improved housing conditions to offer the birds a more natural environment are exciting opportunities I would like us to further pursue and support.
What are you most excited about in the next 5-10 years regarding the poultry industry?
For me, sustainability is the biggest challenge for the future, and I am optimistic that the poultry industry will continue to improve in this area. If we want to feed the world with all the challenges we face such as droughts, extreme weather events, flooding, rising feed prices, etc., the whole livestock industry needs to become more sustainable. Producing chicken protein is undoubtedly the most promising of all livestock farming options, but there is still a long way to go to improve sustainability in the poultry industry.
What's your next challenge?
That's a difficult question to answer. I suppose it is most important to realize that we can't rest on our laurels, but we need to improve and learn every day as individuals and as a company. If we think we know everything, we have lost the game. Living is a constant learning process, and I am trying to always include time to read papers or other publications to keep up with what's happening. I would say keeping up with the latest development in my area of expertise is my daily challenge. The other challenge is listening – listening to the farmers who know their animals best and listening to the consumers about what they want to buy and eat. When you have spent some time working on a certain subject, there is always the danger of not seeing the forest for the trees, hence we must not stop listening to one another.
February 2023 - July 2022
---